1&1 .co.uk domains are £2.99/yr, .eu/.com/.net/.org £8.99/yr. You get a wealth of features, including DNS Management, Masked URL forwarding, and Phone and e-mail support can be reached 24 hours a day, seven days a week. As the world's largest web host with an amazing infrastructure 1&1 are who Free Stuff Junction recommend for domain names and any other web hosting needs.
• 3 Issues of Computer Shopper for £1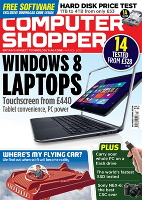 Claim 3 issues of Computer Shopper Magazine DVD edition for just £1. It costs £4.99 for just 1 issue in the newsagent, so with this deal you pay a total of £1 instead of a total £14.97 you'd pay in the newsagent! Cancel at any time during your 3 introductory issues and pay no more than the £1 already debited.