• Free Vodafone SIMs + £50 worth of calls/texts for just £10

Fill in the short form to request up to 2 free Vodafone SIM cards. Once you receive your SIMs you could buy a Vodafone Freedom Pack for £10, which gives you a whopping £50 worth of calls and texts plus 50MB of web access. Plus you can now earn Vodafone Freebee Rewardz every time you top up, which you can exchange for discounts, music downloads, free minutes, vouchers and more. Make sure you request 2 SIMs so you have one spare to give to a friend. You can request either a standard SIM, or Micro SIM for iPhone4/4s, Samsung Galaxy S3, HTC One S/X and Nokia Lumia 610.
• 6 virtually free issues of Auto Express + free 26 piece toolkit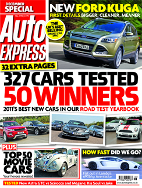 With Auto Express you'll discover the fastest car news and a wealth of exclusive stories from the world of motoring. Claim 6 trial issues for the insane price of just £1 (17p per issue, instead of the usual £2.45 at the newsagent). It costs them more than £1 in postage to mail you the 6 issues, so in our eyes this is virtually a freebie. Plus, you'll be sent a free 26 piece toolkit as a gift. But hurry as stocks of the free gift will likely run out quickly with this offer being so good (note: the first page doesn't mention the toolkit, but click the "Get 6 issues for £1 now" link and it is shown there). You can cancel at any time during your 6 introductory issues and pay no more than the £1 already debited. The 6 issues and free gift are yours to keep whatever you decide.