• Get Paid for your Opinion at Valued Opinions

Give your opinion on a range of subjects at Valued Opinions and they'll reward you handsomely for it. For every paid survey you complete you can expect to earn up to £5. Once you have £10.00 of credit, you can claim reward vouchers to spend at retailers such as Amazon.co.uk, Wow HD, Marks & Spencer, Argos, Sainsburys, Boots, John Lewis & more. They have over 450,000 members in the UK earning rewards.
• 3 virtually free issues of FourFourTwo Magazine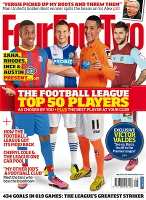 FourFourTwo features football news and views from all over the world as well as having regular interviews with the biggest players on the planet. Claim 3 trial issues for the insane price of just £1 (33p per issue). It normally costs £4.60 for just 1 issue at the newsagent, which means this offer is worth £13.80. It probably costs them more than £1 in postage to mail you the 3 issues, so in our eyes this is virtually a freebie. You can cancel at any time during your 3 introductory issues and pay no more than the £1 already debited. The 3 issues are yours to keep whatever you decide.