• Free O2 SIM Card + Priority Moments freebies & offers

Request your free O2 PAYG SIM card. Choose from a range of tariffs depending on what suits your usage. With the Pay & Go Go Go tariff, you get 75 minutes, 500 texts and 100MB of data for only £10 a month. Then after 3 months, everything doubles, still for only £10! Plus, as an O2 customer you can get access to great freebies and offers with O2 Priority Moments, if you have a smartphone or web enabled mobile. There's also O2 Rewards that gives you up to 10% of your credit back every three months.
• 3 virtually free issues of FourFourTwo Magazine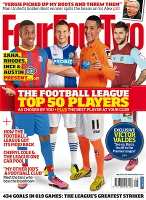 FourFourTwo features football news and views from all over the world as well as having regular interviews with the biggest players on the planet. Claim 3 trial issues for the insane price of just £1 (33p per issue). It normally costs £4.60 for just 1 issue at the newsagent, which means this offer is worth £13.80. It probably costs them more than £1 in postage to mail you the 3 issues, so in our eyes this is virtually a freebie. You can cancel at any time during your 3 introductory issues and pay no more than the £1 already debited. The 3 issues are yours to keep whatever you decide.